FIFA 22 TOTS: Insane Cristiano Ronaldo Card Leaked
That's right – the GOAT is getting a TOTS card. Cristiano Ronaldo has been leaked to be one of the cards featuring in the FIFA 22 Premier League TOTS.
Ronaldo has been one of Manchester United's bright sparks in what really was an absolutely abysmal season for the Red Devils. Ronaldo was brought in last summer by Ole Gunnar Solksjaer alongside Raphael Varane and Jadon Sancho which excited fans globally and led many to believe United were destined to win it all this season.
This quite frankly didn't go to plan and Ralf Rangnick's men will be finishing the season outside the top four and trophyless. Nevertheless – Ronaldo has been unbelievable for them this campaign and thoroughly deserves his blue card.
So, with this – let's take a look at Cristiano Ronaldo's leaked TOTS card in FIFA 22 Ultimate Team.
Read More: FIFA 22 Team of the Season: Leaks, TOTS Nominees revealed, how to vote and more
---
Cristiano Ronaldo's Leaked TOTS Card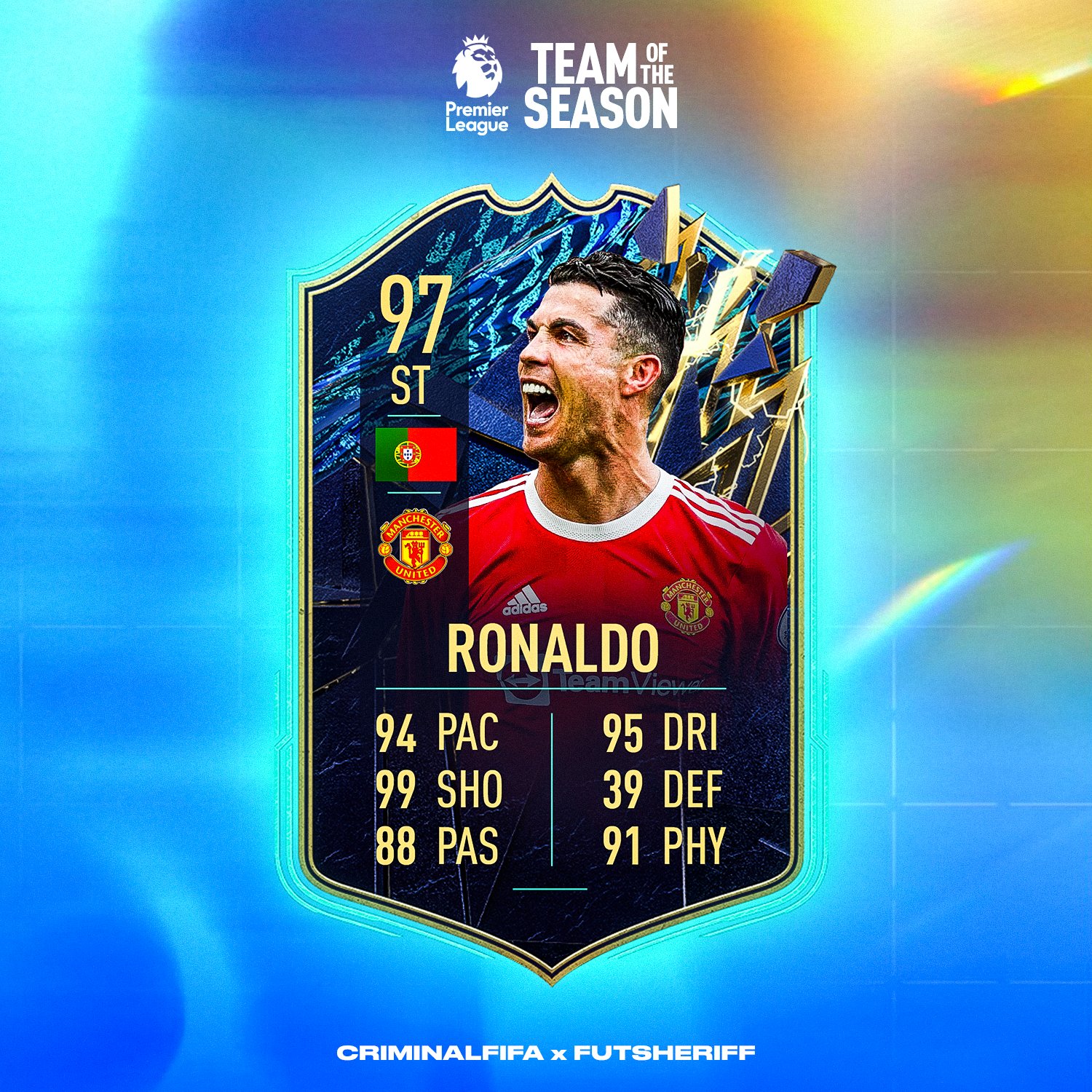 Here he is, as leaked by reliable FIFA source FUTSheriff – here is Cristiano Ronaldo's TOTS card.
The stats are official, so let's take a look at them.
Pace – 94
Shooting – 99
Passing – 88
Dribbling – 95
Defending – 39
Physical – 91
Wow, what a card – but what else do you expect for the greatest of all time?
This is going to go for millions on the market, with Ronaldo being one of the most desirable cards on the game and arguably the best TOTS to have been released so far.
With 99 shooting we'd be surprised if he misses absolutely anything in front of goal.
---
Cristiano Ronaldo's Season
Ronaldo's fairytale return to Old Trafford won't have gone exactly as he anticipated, but on a personal level, he can be very proud of his achievements this season.
The 37-year old veteran forward has played 38 times for United this season, netting 24 times and picking up three assists along the way as well.
These are insane stats for someone at the peak of their career, not someone who has been described as 'finished' by many before the season began.
He has been Manchester United's saviour so many times this season and has provided some unbelievable moments in the games he's played in. He's proved his doubters wrong once again and United fans will be absolutely desperate for him to be wearing red come the start of next season.
---
You can keep up to date with all of the latest Gaming News right here at GiveMeSport.
News Now - Sport News