Messi, Mbappe, Neymar: FIFA 22 TOTS Cards Leaked
Lionel Messi, Kylian Mbappe and Neymar are a trio that will strike fear into any of their opponents and now they're all getting TOTS cards on FIFA 22 Ultimate Team.
When this threesome was brought together at the beginning of last year's transfer window, fans around the globe were massively excited to see MMN perform together. The comparisons between them and the infamous MSN – Neymar, Luis Suarez and Lionel Messi were circulating and they've lived up to expectation, gaining a spot in the Ligue 1 TOTS this year.
Between the three of them this year they've accumulated 101 goal contributions this season, which is simply unbelievable and explains why they're all featuring in EA's TOTS picks.
So, with this – let's have a look at Lionel Messi's, Kylian Mbappe's and Neymar's leaked TOTS cards.
Read More: FIFA 22 Team of the Season: Premier League/EFL TOTS Squads, TOTS Swaps, Leaks and More
---
Lionel Messi Leaked TOTS
As leaked by reliable FIFA source FUTSheriff – here is Lionel Messi's TOTS card. His stats are expected, so let's take a look at them below.
Pace – 92
Shooting – 96
Passing – 97
Dribbling – 99
Defending – 38
Physical – 74
Incredible stats, but what else do you expect from one of the greatest of all time?
Messi hasn't had the easiest of rides this year by his standards, but he's still performed exceptionally and deserves his slot. He has 11 goals and 14 assists this year at his new side, which would be put down as a fantastic first season for anyone – but obviously, this is Lionel Messi we're talking about.
---
Kylian Mbappe Leaked TOTS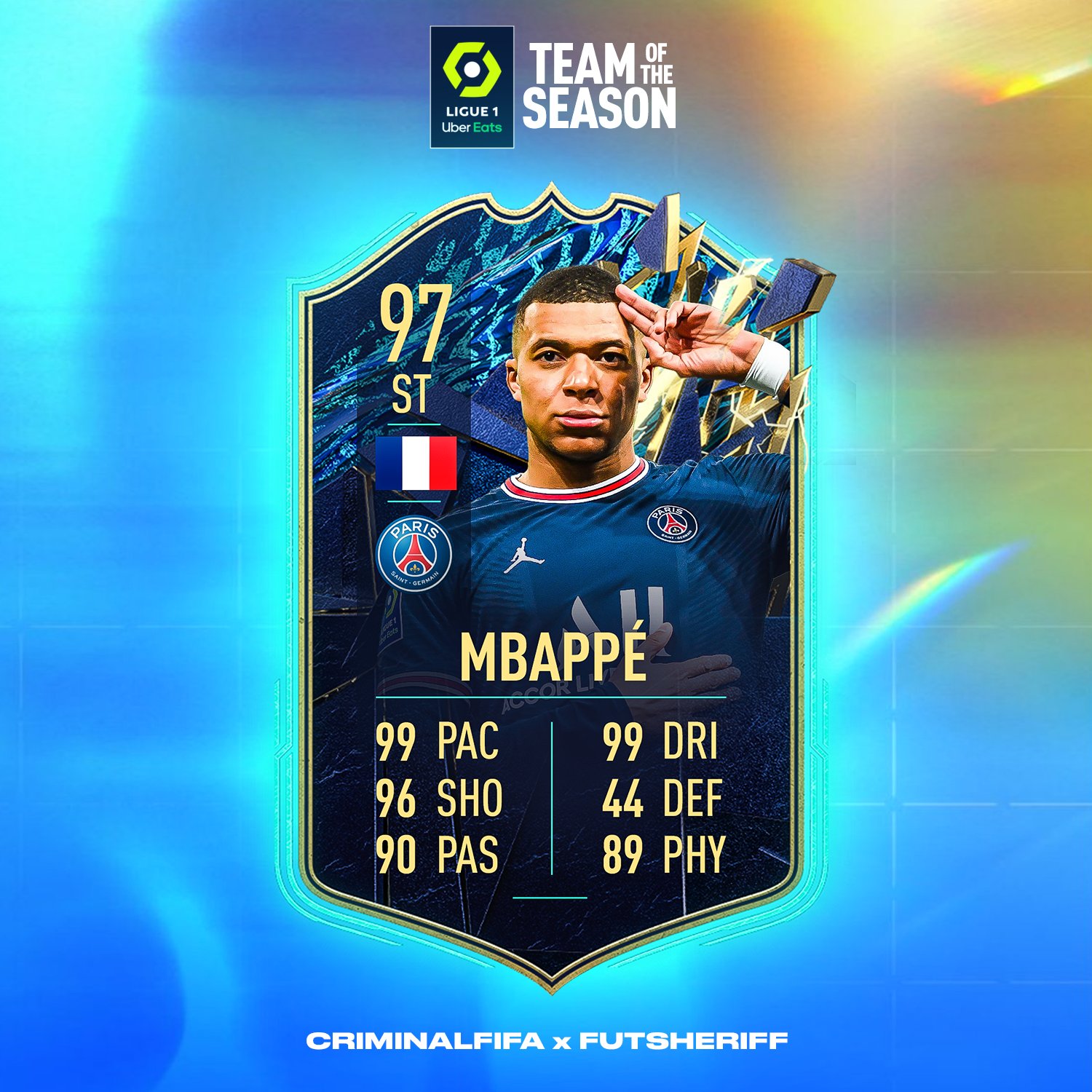 As leaked again by reliable FIFA source FUTSheriff – here is Kylian Mbappe's leaked TOTS card.
The stats are once again expected, so let's have a look at the Frenchman's stats.
Pace – 99
Shooting – 96
Passing – 90
Dribbling – 99
Defending – 44
Physical – 89
Arguably the best player on the planet right now, Kylian Mbappe goes from strength to strength in his career and this has certainly been his best personal season yet.
His contributions really do speak for themselves. 39 goals and 26 assists in as little as 46 games is just insane. It's no surprise that PSG have offered him his most recent contract which sees him earn one million a week. Kylian Mbappe is simply irreplaceable.
---
Neymars Leaked TOTS Card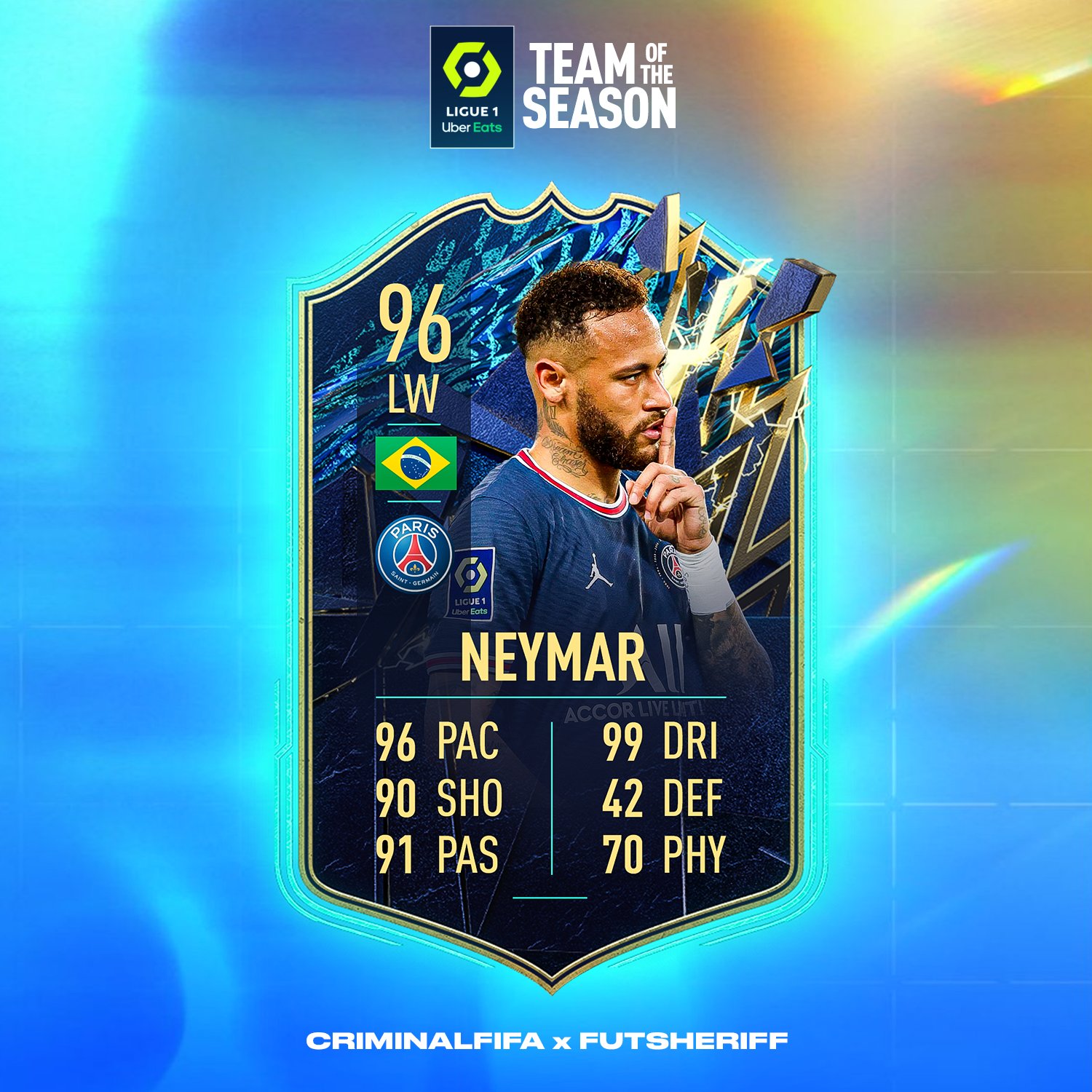 Finally, FUTSheriff has revealed to us the completion of the trio – Neymar's leaked TOTS card. His stats are again expected, here they are.
Pace – 96
Shooting – 90
Passing – 91
Dribbling – 99
Defending – 42
Physical – 70
Neymar has probably endured the worst season of the three, he's been injured for quite a lot of the campaign – however, his numbers are still very decent. The Brazilian has 13 goals and 8 assists in just 28 matches.
He still is one of the world's best on his day and it simply wouldn't be a Ligue 1 TOTS squad without the tricky winger.
Each one of these cards will most likely go for a small fortune on the game, so if you are lucky enough to pack pull one of these absolute ballers – you should be very pleased.
---
You can keep up to date with all of the latest Gaming News right here at GiveMeSport.
News Now - Sport News