Mario Strikers Battle League: All Stadiums
Mario Strikers Battle League is out now! But what stadiums are featuring in the new title? Find them all out right here.
There have been two previous Mario Strikers titles on both the Nintendo Wii and the GameCube, but now the popular franchise is back and it's better than ever on the Nintendo Switch console. Branded with the new slogan, 'Anything goes on this pitch!', Nintendo tells fans to prepare for a five-on-five sport like football that's way heavy on offence.
Which it certainly is. The new addictive gameplay promises goals galore and in the short space of two weeks since the game has been out, it's been very well received by its fans. The new title is packed full of new hyper strikes, cups and characters – whilst also introducing some all-new stadiums into the Mario Strikers franchise.
So, with this – let's take a look at every single stadium featured on Mario Strikers Battle League.
Read More: Mario Strikers Battle League: Release Date, Gameplay, Developer, Football, Pre-Order and Everything You Need to Know
---
Mario Striker Battle League: All Stadiums
There are a grand total of five stadiums you can battle it out on in Super Mario Battle Strikers. They are as follows:
Lava Castle
Lava Castle is a Stadium inspired by Bowser's Castle, a recurring location throughout Mario games. Prepare to feel the heat in this fiery domain.
Spooky Mansion
Spooky Mansion is Mario Strikers' take on the haunted houses found in the Luigi's Mansion games. The Spooky Mansion is an intimidating venue, so proceed with caution and play if you dare.
Jungle Retreat
Jungle Retreat is a stadium that perfectly mirrors the world of Donkey Kong in a football setting. The goalposts are made out of wood and the field is surrounded by trees making you feel immersed in the wacky world of Donkey Kong.
Mushroom Hill
Mushroom Hill is a stadium that exuberates all Mario games. It goes back to the classic side scroller Mario games with 2D platforming terrains and mushrooms galore surrounding the crowd.
Royal Castle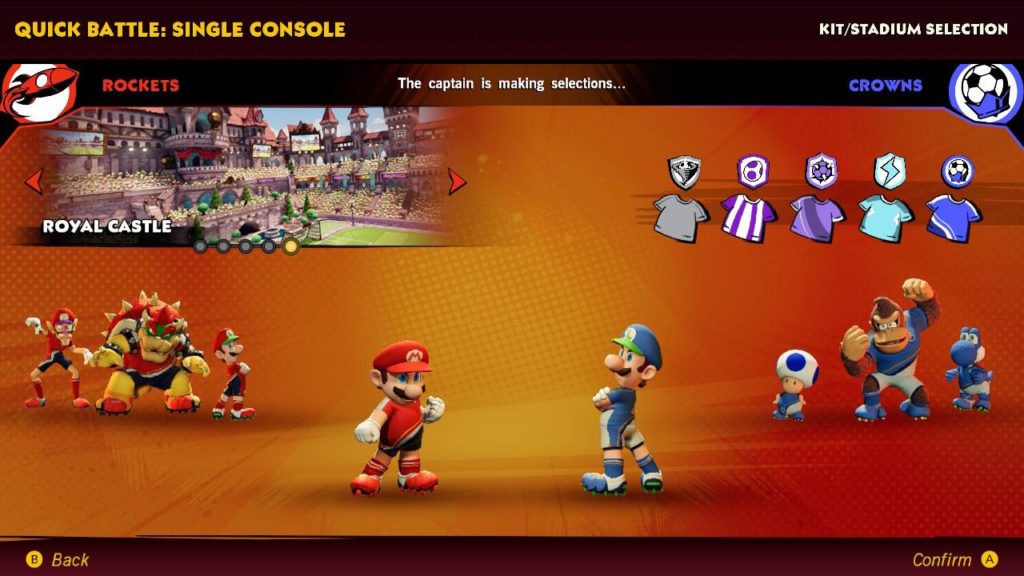 Finally, Royal Castle takes fans to a familiar location, the castle that houses Princess Peach. They use the iconic Super Mario 64 castle design which is simply beautiful and overall it's just a glorious place to kick a ball around.
What's your favourite stadium on Mario Strikers Battle League?
---
You can find all of the latest Gaming news right here on GiveMeSport.
News Now - Sport News